Harrison Company, Inc. was founded in 1922 by O.D. Harrison, primarily as a candy and tobacco company. By 1975, the company had built a new, modern warehouse and expanded into the convenience store market. During the next 15 years, the Harrison Company grew at an outstanding rate of 25% per year.
In 1990, a larger ultramodern warehouse was built in Bossier City, Louisiana and in 1998 Harrison Company, Inc. became an employee owned company. The company's motto became – Working each day to make our customers more profitable, our co-owners more successful and our company a better place to live.
For over 80 years, stores of every size, from neighborhood markets to multi-store operations, have come to appreciate Harrison Company's commitment to success. Convenience store merchandizing requires a unique approach. Harrison Company's entire multi-state operation is designed to help your business become more profitable through innovative programs that deliver the right products, in the right quantities, at the right time. Harrison has broadened its business definition to encompass the distribution of consumer products, particularly those intended for immediate consumption. As consumers' buying habits change, the product selection will change. Harrison will continue to provide an important economic function by offering the products consumers demand for immediate consumption.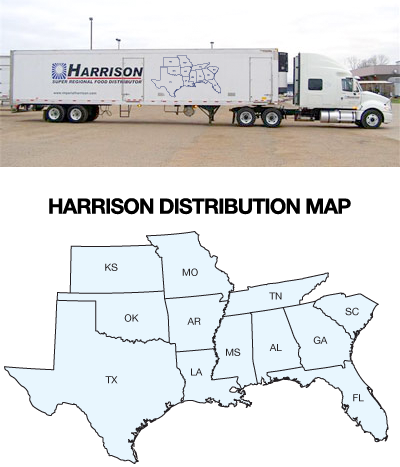 Long an industry leader in systems and programs, Harrison Company has perfected the process of filling single-pick orders as quickly and efficiently as case-lot order. With over 8,000 SKU's and a 99% in-stock rate, Harrison Company offers state-of-the-art institution from Telxon order capabilities to the most advanced Electronic Data Interchange (EDI). Harrison Company is truly high-tech without sacrificing "high-touch." Harrison Company will continue to be a leader in innovation and efficient distribution. Never sacrificing "high-touch" for "high-tech," Harrison Company also offers a SPACEMAN Professional plan-o-gram software. One of the most advanced computer programs available today, SPACEMAN Professional is designed to not only increase profits, but can create an individual plan-o-gram that is ideal for your store. With an up-to-date calculated mix of merchandise and in the right quantities, you will reach maximum profits. Best of all, Harrison Company offers this service at no charge.
To learn more about Harrison Company, please visit www.harrisoncompany.com.