Our Story
The Story of Georges Enterprises
Georges Enterprises is a Louisiana-based company with global investments and assets in diverse business sectors. As a leader in every segment of business that we manage, Georges Enterprises has contributed billions of dollars to the economy and has created thousands of jobs in the past several years. Current investments are in various industries including food distribution, food service, media, family entertainment, real estate development, construction, and raw materials management.
Georges Enterprises started in 1916 as Imperial Trading, a family business founded by Gus Pelias, grandfather of the current Chief Executive Officer John Georges. Nearly 100 years later, the company turns over $1 billion in assets on an annual basis by acquiring businesses and startups, and developing their model to be more profitable. Georges Enterprises operates over 50 businesses, including The Advocate Newspaper, Imperial Trading Company, Harrison Company, and AMA Distributors to name a few.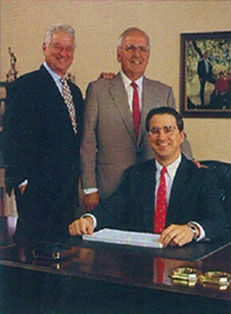 John Georges (sitting) learned the family business for 25 years under his Uncle Gerald Pelias (standing left) and his father Dennis Georges (center) before becoming President of Imperial Trading.